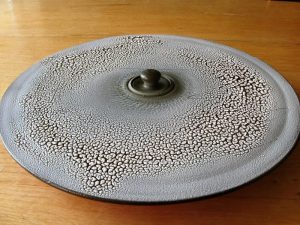 FOR IMMEDIATE RELEASE September 20, 2016
Guy Adamec Sculptures Presented at Conference of National Arts Leaders
WASHINGTON, D.C.—Ceramic vessels created by Michigan artist Guy Adamec were presented last week in Grand Rapids as gifts and awards at NASAA Assembly 2016, the annual conference of the National Assembly of State Arts Agencies. The gathering convened more than 300 arts leaders from all 50 states and several jurisdictions, along with a range of experts in cultural research, creative community development and arts education.
Adamec's works were chosen by NASAA to recognize outstanding leaders in the arts field: individuals who have made exceptional contributions to the arts and public life and who have had a major impact on public support for the arts. Each winner receives a work of fine art in conjunction with his or her award, which is presented before an audience of top arts leaders from across the nation. When choosing the art for these ceremonies, NASAA looks for high-caliber works that exemplify American talent, originality and artistic skill.
"NASAA was excited to discover Guy's beautiful work in our search for our 2016 awards," said NASAA CEO Pam Breaux. "His unique approaches result in truly distinctive pieces that we know our recipients will treasure. As a grantee of the Michigan Council for Arts & Cultural Affairs, Guy is a glowing example of how public funding helps to provide space for artists to flourish."
Adamec has been an artist and educator in Flint, Michigan, for more than 40 years. He is currently the firemaster at the Flint Institute of Art. He has taught art or led workshops in public schools, museum schools, colleges—even a G.E.D. program in the county jail. At his studio in Goodrich, Michigan, Adamec produces custom commissioned pottery as well as art pieces for galleries. He has collaborated on many community projects and public art installations in Michigan. Adamec was born in Oak Park, Illinois, and grew up on the west side of Chicago. He received a B.A. from Knox College and an M.F.A. from Cranbrook Academy of Art.
State arts agencies aim to elevate public awareness, provide grants and facilitate access to the arts while promoting the cultural, civic, educational and economic benefits of a thriving arts sector.
The National Assembly of State Arts Agencies is the nonpartisan, nonprofit membership organization that unites, represents and serves the nation's state and jurisdictional arts agencies. Founded in 1968, NASAA represents their individual and collective interests, empowers their work through knowledge, and advances the arts as an essential public benefit. To learn more about NASAA and state arts agencies, visit www.nasaa-arts.org.
National Assembly of State Arts Agencies
CONTACT: Sue Struve
202-347-7068
sue.struve@nasaa-arts.org